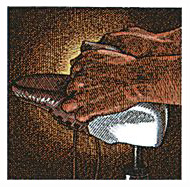 Each Moccasin upper is cut from the same leather type. The pieces are stitched together, the plug is handsewn in place and the shoe is handlasted on a last designed by the SAS Shoemakers. The insole or foot bed is the layer on which your foot rests. It should match or conform to your foot as much as possible. The outsole or sole should be lightweight and resilient. SAS supersoft soles cushion your feet on millions of tiny air bubbles so you are literally walking on air. At SAS, our commitment is to quality, fit and comfort.
Handcrafted Comfort
SAS makes many types of shoes that will be comfortable, and give you good health and happiness. SAS Shoes makes: women's sandals, women's wedges, women's heels, women's loafers, women's slip-ons, women's walking shoes, women's dress shoes, women's work shoes, women's slip resistant shoes, and women's athletic shoes. Also, SAS Shoes makes: men's sandals, men's walking shoes, men's work shoes, men's slip resistant shoes, men's dress shoes, men's casual shoes, and men's athletic shoes.
SAS Shoes knows that having a large selection in sizes and widths to fit your foot is important for your foot comfort. For women SAS Shoes makes sizes: 4 through 12. For men SAS Shoes makes sizes: 6 through 15. SAS Shoes carries their shoes for men and women in multiple widths: Slim, Narrow, Medium, Wide, and Extra Wide.
SAS Shoes has an Active Comfort shoe line. The Active Comfort Fitness Shoes for men and women is engineered to have the same comfort features as our FootShaped walking shoes. In addition, SAS Shoes has added features that will insure stability and a natural and healthy posture throughout the walk cycle. SAS Shoes manufactures a ladies Tour in white leather & mesh, and a men's Journey in black & white leather.
A Healthy natural approach to comfortable footwear!
SAS Shoes has a Slip-Resistant shoe offering also. The SAS X-tra Grip Sole is non-marking and uses a unique hexagon-shape design that channels floor spills to maintain better contact with floor surfaces. SAS Shoes offers a ladies Liberty in black, and a men's Guardian in black.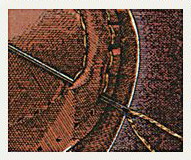 SAS Shoes also offers accessories. SAS manufacture many attractive and practical styles of handbags. All SAS Handbags are made from the same soft leather as our shoes. They're fully lined, with roomy pockets and snap-on key chain. Mix and match handbag and purse colors to go with SAS Shoes. SAS Shoes carries soft leather cream that restores the color of your shoes or handbag, softens, protects finish, and prevents drying. SAS makes SAS Unscuffit that helps repair leather scuffs. Plus, SAS makes a nubuck brush, and ultra gloss wax polish.